Food
Tips to perfectly crisp pumpkin seeds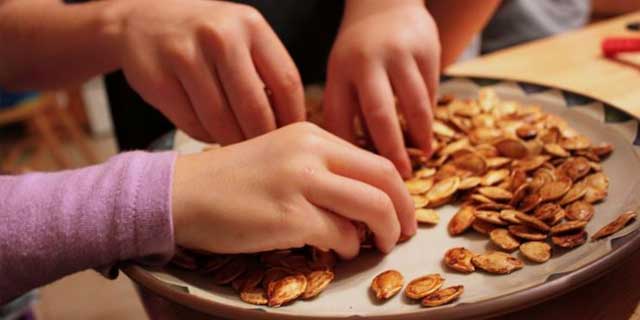 Pumpkin seeds are a perfect snack in the evenings. You can even eat them to control your other fatty food cravings. Some people consider it a part of tradition to roast the pumpkin seeds they get when they carve their pumpkins in Halloween.Pumpkin seeds can taste quiet bad if not roasted properly, because at the end of the day you eat them cause of the kick you get out of the crunch.
Here are some tips to ensure you get them just perfect:
1. Separate all the yellow pumpkin from the seeds.
2. Wash the seeds and allow them to air dry.
3. Toss them in an oven in a moderately heated over (around 350 degrees) so that they don't burn.
4. Keep turning them over in the over so that all the sides get that even shade of golden.
5. Sprinkle salt and flip so that the seeds get evenly coated with salt.
6. You can add a bit of zing to the seeds by rubbing some chili paste over the seeds after its baked and adding them to the oven again so that the chili roasts with the pumpkin seeds properly. You can do the same with honey for those who have a sweet tooth.
Ways to cut the calories from your burger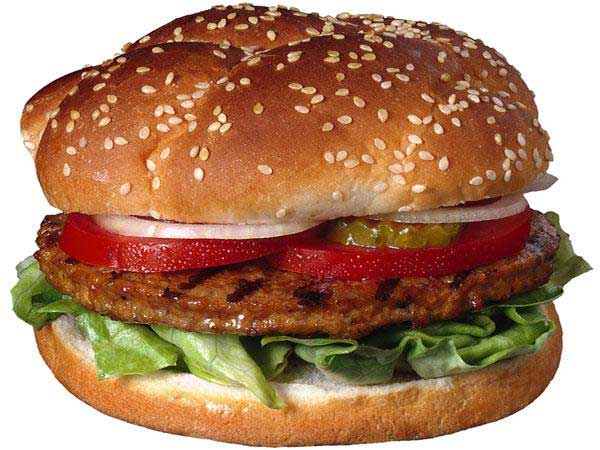 Burgers come under the category of junk food. But with a few changes made to this fast food favorite you can easily eat your way into health.
Here are a few ways to make your burger healthier:
Make your own patty
The ready made patties that are available in the market are usually made with the trimmings of meat that contain a lot of fat. Instead heat to your local butcher and find a meat portion that contains less fat and ask him to mince it for you to make your own patty. If you don't know how to make your own patty, don't worry, it's very easy. Just watch a few videos on the YouTube and you can be an expert in no time.
Go easy on the mayonnaise
Mayonnaise contains a lot of calories. Find one that is low fat or is eggless. You can instead use a healthy version of the mayonnaise like sour cream or hung curd.
Try to skip the cheese
Try to avoid adding the cheese as it can contribute to adding a few inches on your waist line. If you really can't imagine downing a burger without cheese, opt for one that is low in fat.
Use whole wheat buns :- When it comes to a burger it's not only what comes in between but what comes on top that counts. Choose between a variety of whole wheat and multi-grain options to make a burger. Skip the white bread that contains hardly any fiber.
10 Different Ways To Eat Eggs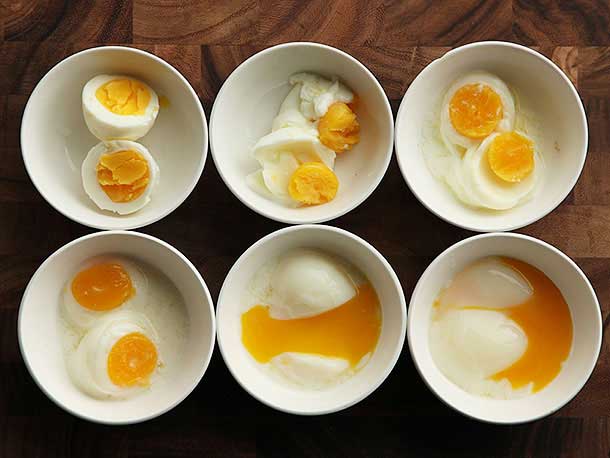 Eggs are a man's best friend. They can be eaten at any time of the day. They are the best comfort food and come loaded with the right nutrients. A lot of people worry about the cholesterol levels in the yolk of the egg, but then an egg a day can't cause much harm. Eggs are power packed and give you most of the essentials proteins, vitamins and minerals you need each day.
What women love best about eggs is that even their men can cook them easily and spare them from entering the kitchen at times. Are you fed up of eating eggs the same way day in and day out? Experiment! There are hundreds of ways to make those eggs more delicious and interesting to eat.
Poached :-
Boil water on the stove. Once the water reaches its boiling point you should lower the flame. Crack the egg onto a spoon and gently lower into the water. Allow to cook for 2 to 3 minutes and remove. You can eat it as it is or add it to soups and salads.
Scrambled
This is an all-time favorite. Toss the eggs around in a pan and once done serve with toast.
Fried on toast
Fry the egg on a pan without breaking the yolk. Serve on toast or in between the layers of a sandwich.
French toast :- This is an easy way to camouflage the presence of eggs, especially for kids who refuse to take their daily dose of protein. Dip your bread slices in eggs beaten with sugar, cinnamon or other spices and sear on both sides on a frying pan.
Boiled :- The basic hard boiled egg is still loved by all. Simply season with salt and pepper and they're good to be eaten as it is.
5 Harmless Foods That Are Best Avoided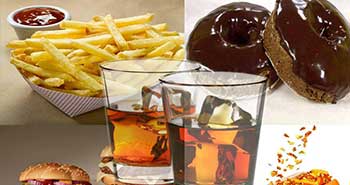 A lot of us are ignorant about some foods that seem harmless but actually do not provide us any nutrition.
Fruit juice
It always better to eat the fruit rather than whipping it up in the blender. By whipping it up you lose out on all that fiber. And steer clear of packaged fruit or vegetable juices. They are loaded with sugar and preservatives. Unless you have no issues with downing tons of calories avoid fruit juice and opt to each fresh fruits instead.
Creamer
It might seem harmless to add a sachet of creamer to your tea or coffee. What most of us don't know is that creamers are the most concentrated source of calories. Try adding milk to your tea or coffee, which is a healthier option as compared to cream.
Salad dressing
It is good to eat salad and dressing your salad can be pretty harmless if you're making the dressing at home. Do not buy the ready to use packaged salad dressings. They are loaded with sugar and salt and not to mention lots of calories. Unsaturated fats are required to absorb all that vegetables but make sure you are adding the right unsaturated fats to your salad. Drizzle on some olive or sesame oil that are rich sources of unsaturated fats and taste great.
Margarine
All of tend to use margarine as a substitute to real butter. No doubt margarine has lesser calories as compared to butter but it is made of chemicals or hydrogenated oils that are bad for your health in the long run. Instead choose to use butter but limit the quantity and go in for the less salted versions.
Processed meats :- Processed meats are not good for your health. You might even be opting for the lean turkey processed meat and still it will be unhealthy. Processed foods contain a lot of chemicals, sodium and other preservatives. If you are looking to lose weight that please ensure that you ditch this meat completely from your diet. Opt to eat fresh meat cuts and see the difference in taste and even the impact it has on your health.
9 Low Calorie Desserts that won't make you gain Weight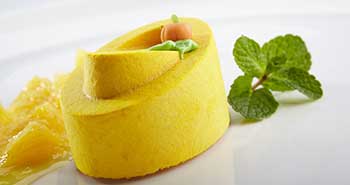 We all are of the misconception that desserts are a taboo when you're trying to lose weight. Don't miss out on desserts just because you want to cut calories, especially for those of you who have a sweet tooth. There are lots of low calories options available and some might in fact be nutritious for you.
Frozen Yogurt :- Blend a cupful of frozen fruits like blueberries, strawberry or peaches with a cup of frozen yogurt and presto you have a yummy fruit dessert.
Bananas dipped in chocolate sauce
Bananas are a natural source of potassium and probiotics. They not only are a source of essential nutrients but they also aid in the digestion process. Simply dip some bananas in melted chocolate and sprinkle with crushed nuts and they're good to go.
Crème Brule
Of course you need not use the obvious crème but instead use milk to make this wonderful egg milk pudding. It is alright to eat the occasional egg full of protein.
Sandwich ice cream
Sandwich some low fat ice cream between whole grain biscuits and you have a yummy dessert at hand.
Orange sorbet :- Whip some mandarins up and use the juice to flavor crushed ice. Not only are these yummy but they do not go far in terms of calorie build up.
Chocolate popcorn :- Drizzle melted chocolate onto some popcorn. Popcorn is healthy and so is dark chocolate. Popcorn leaves you feeling full and also solves the cravings that you may experience.
Fruit dipped in chocolate fondue :- This dessert will not only serve the purpose of dousing out your sweet tooth cravings but also get you eating healthy stuff like fruits. Simply dip cut fruits affixed on a stick in the melted chocolate and pop them in your mouth.
Tender Coconut pudding :- Whip tender coconut with chopped cottage cheese and a dash of sugar. Leave to set in the fridge with a dash of gelatin.
S'mores :- Sandwich a grilled marshmallow between a graham cracker and a tiny slab of melted dark chocolate. Eat while the marshmallow is still warm. This childhood delight never fails to fascinate even grownups till date.
4 Ways to make Baking Recipes Healthier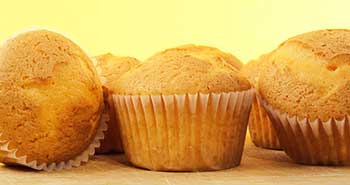 Baking might be a healthier option as compared to deep frying, but there are still some ways to cut the calories in baking.
So here's how to make those baked goodies provide more nutrients minus the calories:
Substitute all-purpose white flour with whole wheat flour
When you think of replacing the flour in a recipe, start by replacing half the mentioned quantity of white flour. If the end result doesn't turn out all bad then attempt to substitute the entire white flour with the whole wheat variety. Be careful in your substitutions because you don't want your baked goodies tasting funny.
Cut down or substitute the sugar
Try not to add sugar to any of your baked goodies or you can start by reducing the amount of sugar that you put in them. Instead of using sugar you can use honey, apple sauce or even maple syrup as a substitute.
Use skimmed products in place of whole
If a recipe calls for milk powder or cream, opt for the skimmed varieties available in the market. You'll be saving up on a lot of calories by this replacement.
Replace fats with fruit purees :- Not all fats are unhealthy, only the saturated ones are. All beautifully baked goodies need fat. You should not completely eliminate fats such as butter from the recipe but can reduce it by substituting half of the fats with a pureed fruit such as pureed avocado, applesauce or pumpkin.